The Team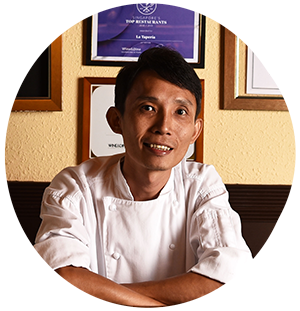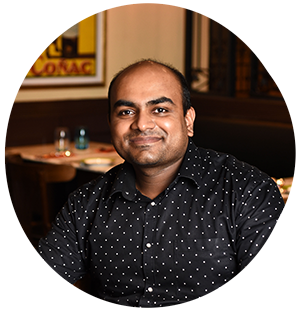 Ng Wei Han
Head Chef

Pankaj
Manager

Ng Wei Han
Head Chef
Chef Wei Han embarked on his culinary journey as a student at SHATEC. In 2007, he joined the Les Amis Group as Chef de Partie for Au Jardin and since then, the young chef has worked through the ranks in various restaurants within the Les Amis Group.
Before assuming the role of Head Chef for the now-defunct Au Jardin, Chef Wei Han was invited to assist in the opening of Bistro du Vin as Junior Sous Chef where he toured Burgundy in France, training in authentic French bistro cuisine and increasing his knowledge of French gourmet culture.
In 2009, the adaptable and self-motivated Chef played a pivotal role in spearheading the launch of Les Amis Catering as the Head Chef for the department. In this role, Chef Wei Han displayed his culinary flair for both small and large scale events for luxury clients such as Gucci, Valentino, and Chanel as well as key public sector clients at the Istana and Singapore's Ministry of Foreign Affairs.
In 2011, Chef Wei Han received the baton from his mentor Chef Galvin Lim, who went on to assume the title of Executive Chef for the Les Amis Group. While at the helm of Au Jardin's kitchen, he created less formal menus, in line with the restaurant's vision to offer a more relaxed dining experience without compromising on the quality of the food.
With his gift in the culinary arts, he took on the challenge as Head Chef in the Group's first Spanish venture, La Tapería, which opened in October 2014. The homely concept on the 2nd storey of Shaw Centre offers a holistic dining experience with traditional Spanish food and affordable drinks.
Despite his lean frame and wide-toothed grins, many would not expect this local chef to pack some mean skills in the kitchen. Off duty, he is a devoted family man who dotes on his daughters!
Pankaj
Manager
Enthusiastic, dedicated, and full of passion, Pankaj began his journey back in Mumbai where he decided to take the leap of faith to pursue a bachelor's degree in Hospitality Management with his family's unwavering support. Later as a fresh graduate with determination and grit, Pankaj sought independence and the right opportunity allowed him to start out as a bartender at Sheraton Mumbai and Hyatt Regency Mumbai to gain invaluable experience. On a quest to move on to his next adventure, Pankaj decided Singapore was his next stop.
In 2012, he joined the now-defunct Casa Verde at Botanic Garden for 3 years before moving on to La Taperia in 2015. As a loving dad and husband, Pankaj strives to provide the best for his wife and daughter, devoting time and effort to hone the leadership skills that have enabled him to grow into the person he is today. Being away from his family, La Taperia has grown to occupy a special place in Pankaj's life as his home away from home.